As of February 2017, I am now under . . . a spending ban.
Yes, Sheldon – the horror.
You may be wondering why I'm under- who am I kidding, you all know exactly why I'm under a spending ban. Because we all share the same affliction, the same life-threatening (for our bank accounts, at least) weakness . . . the desire to shop. Especially at 2am when you're daydreaming about what you'll wear on that day-trip to that place that you're like 70% sure you'll organise later on in the year.
Don't squint at that sentence in confusion – you know you do it too.
So, yeah, I've imposed a spending ban on myself until March. However, I'm looking on the bright side and enjoying this spending ban for what it is – a chance to finally catch up on the last month's worth of hauls. And to give my bank account the chance it desperately needs to relax. Poor baby suffers anxiety, what with all the strain I put it under.
(I'm not sorry.)
Apologies for the not even just semi-sucky video – but I felt like creating something a little extra, so I thought I'd try my hand at it. Besides, I eventually want to get to a point where I can create beautiful artistic videos like Abby from Seafoaming and use them in my posts. You have to be shit before you become semi good.
 Now, to the point of this post: one of my last purchases before the regime of the spending ban slammed down on me like a death sentence was a glorious River Island shoe haul.
 Recently, (and by recently I mean for the past 18 years of my life – seriously, I jumped on this train a long time before everyone else) I have been loving embroidery. I have embroidered trousers, embroidered camis and a plan for a DIY embroidered jacket. (Look forward to it.)
What did I not, however, have?
Well, until now, I never had any embroidered shoes. I mean, why would I? Would embroidered shoes not be impractical? Hard to style? Dare I say . . . tacky?
 I've said it before and I'll say it again – I'm wrong so often that it no longer comes as a surprise.
I picked up three (yes, I know . . . like I said, the spending ban is now fully in place) different pairs of embroidered shoes in different styles.
The first are very clearly statement shoes. I mean, to a certain extent, they all are, but these are really grab-you-by-the-collar-and-scream-in-your-face. And I love it. From the obscenely high platform heel (I wear nothing less.) to the gorgeous embroidered detailing (I demand nothing less.) these are simply amazing.
And they're practical (and comfortable) enough for work-wear – provided you're pairing them with a really, really basic outfit. Because nobody wants that contrasting every-piece-of-my-clothing-is-screaming-for-your-attention look.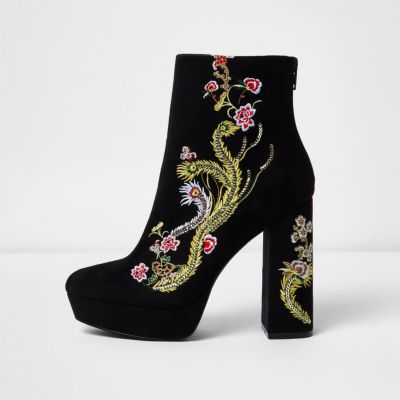 River Island Embroidered Boots – ON SALE FOR £35!
The second pair are a little more subtle.
These I have been coveting for ages, but I never took the leap because it just wasn't logical that I would get a chance to wear them. With three holidays, summer and new inserts to my wardrobe coming up (Chinese-button style slip dress, I'm looking at you) – oh, and a sale price tag – I managed to justify the purchase.
And man, oh man, am I glad I did.
Now, the last pair are difficult. Are they subtle? Are they attention-grabbing? They're almost too loud for my taste – but the simple, barely there design of them means that they can get away with it.
I bought these for Mauritius, to be paired with a simple white dress or . . . well, anything simple and white. I actually saw them in store before buying and was absolutely mesmerised by the colours and the patterns. Yes, I am rather like a sparrow like that. Or, y'know, an ADD child.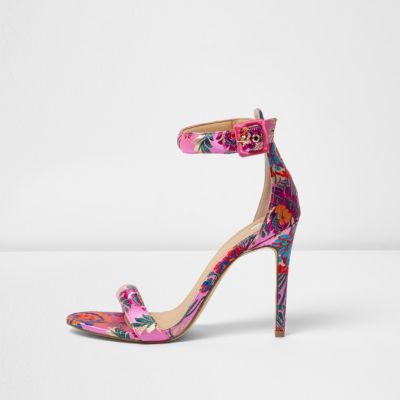 River Island Embroidered Sandals – £35
All in all, I think embroidered shoes can be a big yay. I'd be wary of pairing them with any outfits that are too loud because I think they're kind of statement pieces – but hey. Each to their own and if you like it, go for it! (Oh, and I if you want a pair of absolutely gorgeous embroidered shoes go check out PossiblySami's latest haul because she picked up the cutest pair of embroidered heels. Also: she's awesome. You'll love her.)
Let me know what you thought of my picks – which were your favourites? Would you wear embroidered shoes, or are they not your thing?
All the love,
Mia x